The History of Woodford Bridge
Historic 15th Century Coaching Inn
Visit Woodford Bridge Country Club and discover a beautiful thatched Coaching Inn dating back to the 15th century. In fact, the original house was built in the 12th century for the Bridge Keeper to live in but did not start providing hospitality until three centuries later when there was an increase in passing traffic, due to local trading and the transportation of animals to market. The house was an ideal halfway point between Bideford and Holsworthy for travellers to rest.
As a result, the wayside house developed into an Inn. To provide enough accommodation, extra rooms were added to the house both on the ground and upper floors. To enable food to be put on the table, a smallholding developed around the Inn, with orchards to provide the raw materials for cider and outhouses to accommodate cows, pigs and poultry.
The Inn would have tried to be as self-sufficient as possible. A water supply was no problem initially as a clear spring ran down the back of the house from the hillside above. Later, a better supply of water was found by sinking a well and installing a pump at the front of the house which can still be seen today.
Woodford Bridge Castle
If you stroll through Woodford Wood, to the north-west of Woodford Bridge Country Club, and look very carefully, you can see the remains of a motte-and-bailey castle. This would have been constructed in the medieval period, between the 11th and 13th centuries following the Norman invasion in 1066.
The castle survives comparatively well as a circular mound surrounded by a ditch (called the "motte"), with a rectangular enclosure on the lower ground to the north east of the mound (called the "bailey"). With its commanding position above a ford in the Torridge River, the castle was strategically important in defending the local area as well as being a centre of administration and, quite probably, a residence for the nobility.
The English Civil War 1646-1651
Woodford Bridge played an important role in the English Civil War, especially during the years 1646 and 1647. It was during the year of 1646 that Oliver Cromwell, for a short period of time, brought his troops and horses here. The Inn was a useful place to rest and rebuild his troops as it was located between the counties of Devon and Cornwall and was well-situated outside the town of Torrington, which featured heavily in the Battle of Torrington and resulted in victory for the new army. Oliver Cromwell's office is opposite our main reception and is now used as our Resort Manager's office.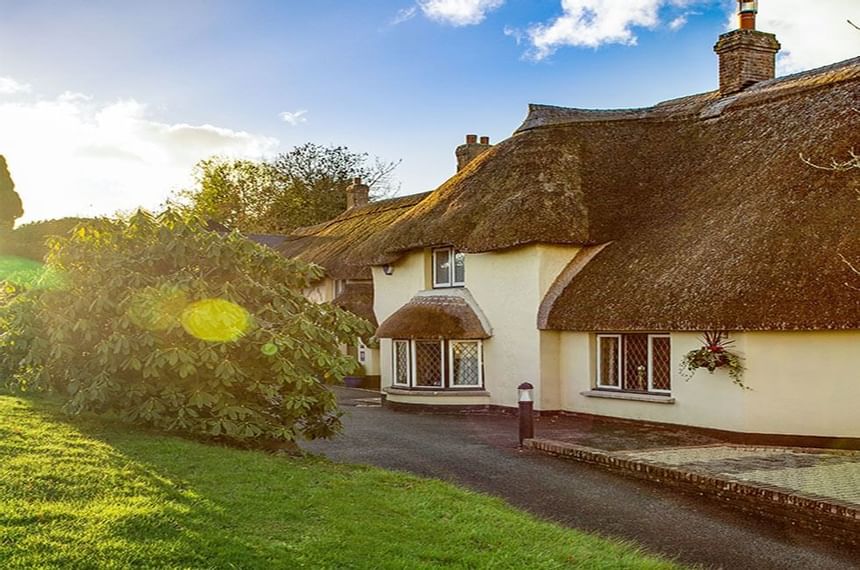 15th Century Coaching Inn